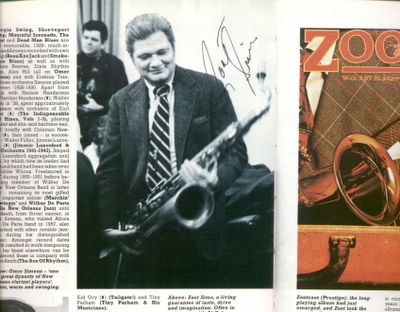 Zoot Sims

Aside from album covers, most of the autographs I've collected over the years have been in a book called "The Illustrated Encyclopedia of Jazz." It's by two British writers, Brian Case and Stan Britt. As a British book, it has musicians that a lot of us Americans are not familiar with, like Bruce Thompson and Mike Westbrook. But it also had the advantage that nearly all the musicians I had sign in it were unfamiliar with it. Most read their entries very carefully and a few flipped through the book to see the rest.
The illustrations in the book are largely album cover reproductions with a few photos thrown in. It's out of print now, but I've seen it in some used bookstores (and Borders.com has a few copies).
I thought the honor of the first entry reproduction should go the John Haley "Zoot" Sims [1925 –1985] since he had the best comment. Besides cool nicknames, musicians generally have a good sense of humor. When he looked at his picture, he said: "Hey, I'm wearing the same clothes!"