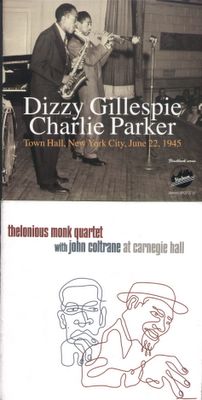 Diz, Bird, Monk & Trane

There are two newly discovered, previously unknown, never before issued live concerts that you MUST own. Get them today!!!
The first is by Dizzy Gillespie & Charlie Parker, recorded in June of 1945. The 'be-bop' movement was in its infancy. The songs they played were new, each one destined to become a standard. The group even has trouble recalling the title of 'that Tadd Dameron tune' (Hot House).
The sound is great for a 1945 live session. Most importantly, the group really gets to stretch out – the average song is 7 minutes, twice that available on the 78 rpm records of the time. Bird does things here that you don't hear on the studio recordings. He even makes several excursions into the altissimo register. The rhythm section is Al Haig, Curly Russell and Max Roach. Tenor saxophonist Don Byas and drummer Big Sid Catlett guest on a song each.
The second captures the Thelonious Monk quartet with John Coltrane at Carnegie Hall in 1957. This group burns! This concert is extra significant because of the limited amount of material documenting the Monk/Coltrane collaboration. Supporting cast: Ahmed Adbul-Malik on bass and Shadow Wilson on drums.
On Tuesday, 11 October, our local jazz radio station KKJZ (88.1 FM) will present a one hour program on the Monk/Coltrane connection at 7:00 PM (Pacific Standard Time). For those of you outside the area, go to
http://www.kkjz.org
for their stream broadcast.