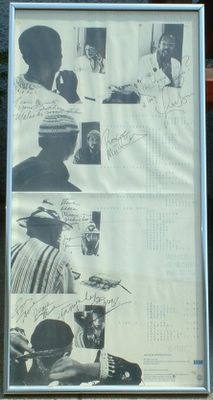 Nice Guys

Many years ago, I was surprised to find there was a trumpeter named Lester Bowie [1941-1999]. Bowie is not a very common name and I wondered if we were related. (One of my other hobbies is genealogy. So far, I been able to trace my family back to
James Bowie, free man of color
[c. 1794-1832]. He lived in the same Louisiana parish as
Col. James Bowie
(of Alamo fame) and his family. There's a good possibility that they were related since they had a lot of dealings together, it's just a matter of finding and documenting the link. You can find my genealogy site
here
.)
In 1979, the Art Ensemble of Chicago played at UCLA's Schoenberg Hall. Their latest album,
Nice Guys
, had only been out a few months. (One of the things I like best about albums is they have room where people can actually sign. I have yet to get a CD autographed.
Nice Guys
went one better by including a poster inside the sleeve.)
I introduced myself to Lester backstage before the concert. One of the first things I wanted to know from him was how he pronounced his name. Like my family, he pronounced it Boo-wee (like the buoy that floats in the water and rhymes with Louie, etc.). Singer David Bowie [nee Jones!] has been the most responsible for the mispronunciation. Lester told me that he had gotten tired of correcting peoples' mispronunciation and just let them say whatever they wanted. Not me!
Next we talked about a family connection. Although he grew up in St. Louis, he was born in Maryland and that's where his family traces their roots. Since my originated in Louisiana, we didn't think we were related. Nonetheless, he signed my poster "To Steve Bowie, A long lost cousin? Lester Bowie"