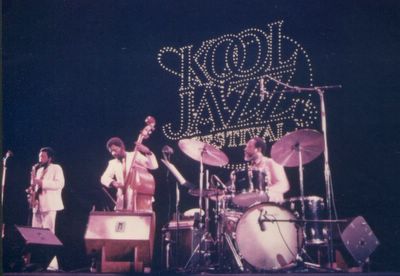 Air - Henry Threadgill (reeds, b. 1944), Fred Hopkins (bass, 1947-1999), and Steve McCall (drums, 1933-1989) [photo by Steve Bowie]

The more adventurous types of jazz don't make it out to LA very often. Unfortunately, the city is more receptive to smooth jazz (or as I prefer to call it, "snooze jazz").
One of the most notable exceptions was the 1982 Kool Jazz Festival. Held at various venues through the city, it featured the World Saxophone Quartet, the Art Ensemble of Chicago, Air, Lester Bowie's Root to the Source, and Anthony Braxton. It didn't sell a lot of tickets, so this was the last time we saw such an assemblage in Los Angeles.